简单介绍:
GibcoA2720801无外泌体胎牛血清Fetal Bovine Serum, exosome-depleted;Gibco胎牛血清(南美);Gibco南美胎牛血清;Gibco南美FBS;Gbico FBS(北美)16000-044;Gibco Fetal Bovine Serum, qualified, South America origin. Gibco FBS, qualified, South America origin.;GibcoA2720801无外泌体胎牛血清Fetal Bovine Serum, exosome-depleted
详情介绍:
GibcoA2720801无外泌体胎牛血清Fetal Bovine Serum, exosome-depleted
产品关键词:GibcoA2720801无外泌体胎牛血清Fetal Bovine Serum, exosome-depleted;Thermo无外泌体胎牛血清A2720801;Gibco胎牛血清(澳洲)10099141;Gibco南美胎牛血清10270106;Gibco南美FBS盒装A31608;Gibco FBS(北美)16000-044;Gibco Fetal Bovine Serum, qualified, South America origin. Gibco FBS, qualified, South America origin;EXO-FBS-50A-1-SBI无外泌体胎牛血清;GibcoA2720801无外泌体胎牛血清Fetal Bovine Serum, exosome-depleted
产品描述
当外泌体在1980年首次被发现后,其被认为是细胞排泄废物的一种方式,*近的研究发现外泌体在很多生理病理上起着重要的作用,这些发现点燃了人们对细胞分泌膜泡的兴趣。exosome及其他细胞外囊泡正起着不可缺少的细胞通讯作用。在肿瘤发展过程中,exosome介导了关键的步骤,如刺激血管生成,削弱免yi反应,甚至参与了转移前微环境的形成。在正常的生理过程中,exosome也起了重要作用,如胎盘exosome帮助形成对母亲免yi系统的免yi抑制屏障。总之,在正常和病理的条件下,细胞都释放小囊泡,以各种方式影响其他细胞。
无外泌体血清可以特异性激发一些细胞反应,表明它们可以在作为zhi疗递送载体方面有巨大的潜力。无外泌体血清的囊泡性质使得它们适合作为用于yao物或核酸递送的潜在纳米载体。在这里,研究人员需要解决的问题是,无外泌体血清的大小分布也会影响外泌体的zhi疗潜力。
1:利用聚合物沉淀分离的外泌体比超离法的粒子分布要小。
2:划痕实验证实聚合物沉淀所得的小粒径的外泌体被细胞摄取后迁移更快。
产品应用
应用对比
1):72-hour cell growth of rat oligodendrocyte cells with FBS
2):miRNA detection by qRT-PCR in FBS sample–derived exosomes
3):Cell culture performance: 2-day viability and viable cell density as a percentage of source FBS
4):Analysis of FBS by SDS-PAGE and CD63 content by western blot
5):Exosome depletion verified by NanoSight instrument measurement and fluorescence exosomes staining assay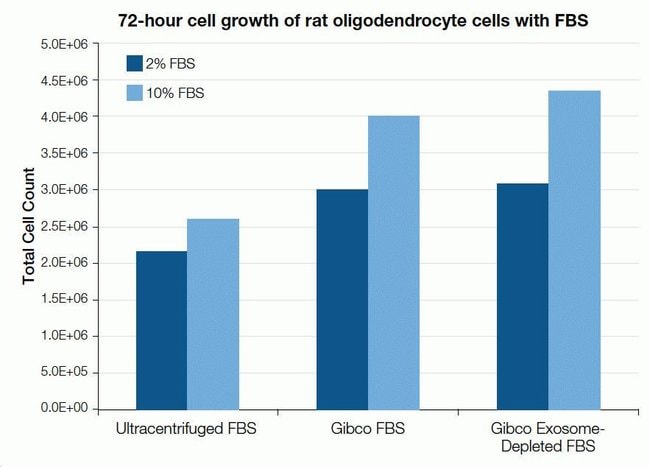 72-hour cell growth of rat oligodendrocyte cells with FBS
Rat oligodendrocyte cells were seeded at 1,000 cells per well in 96-well plates, and grown in medium containing 2% or 10% by volume of one of the following supplements: Gibco Exosome-Depleted FBS (Cat. No. A2720801), Gibco FBS (Cat. No. 26140-079, the source of the exosome-depleted version), or ultracentrifuged FBS. After 72 hours in culture, the live cells were stained with Invitrogen™ Hoechst 33342 (Cat. No. H3570), and the plate was imaged and analyzed on a 96-well plate imaging instrument (Trophos Plate RUNNER HD™). Results are presented as the total cell count as reported by the 96-well plate analysis. (The results were obtained from the laboratory of Dr. Jonathan Gilthorpe in the department of Pharmacology and Clinical Neuroscience at Umeå University, Sweden.)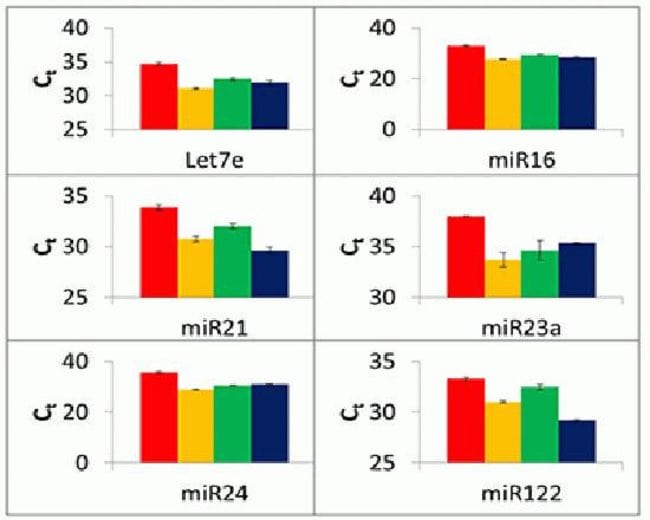 miRNA detection by qRT-PCR in FBS sample–derived exosomes
Exosomes were isolated from FBS samples, and total RNA was isolated from the exosomes (using the Total Exosome RNA & Protein Isolation Kit). RNA was then analyzed by qRT-PCR for Let7e, miR16, miR21, miR23a, miR24, and miR122 using the Applied Biosystems
TaqMan
MicroRNA Reverse Transcription Kit.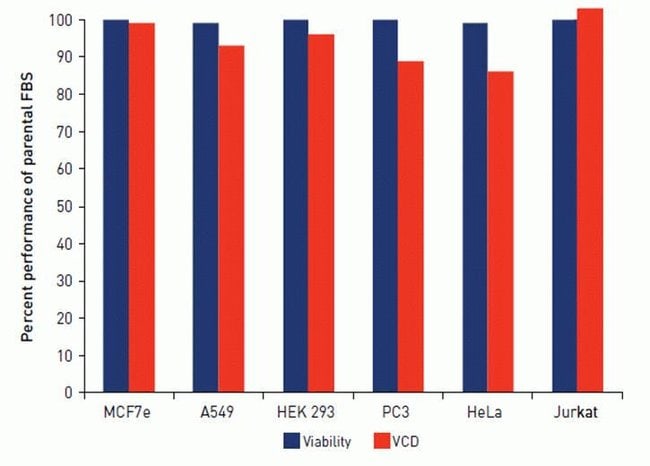 Cell culture performance: 2-day viability and viable cell density as a percentage of source FBS
Several cell lines were grown in basal medium (DMEM, high glucose, GlutaMAX
Supplement) containing 10% Exosome- Depleted FBS or 10% source FBS and assayed for viable cell density (VCD) and cell viability by Vi-CELL
instrument analysis. Results are presented as the viability or viable cell density that was achieved in Exosome-Depleted FBS as a percentage of that achieved in the source FBS (used to make the Exosome-Depleted FBS).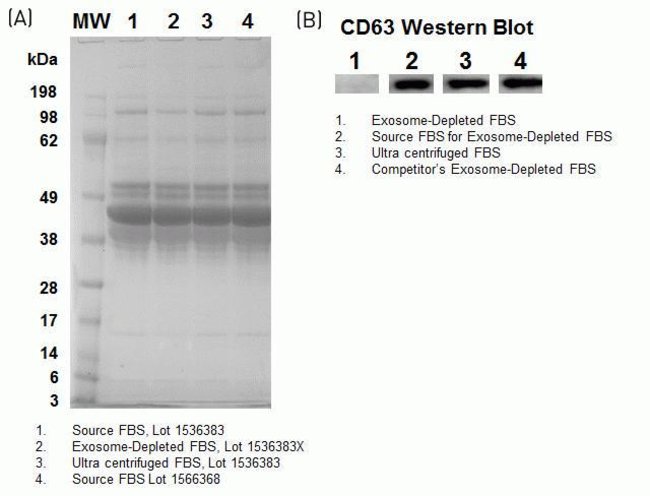 Analysis of FBS by SDS-PAGE and CD63 content by western blot
Panel A: Analysis of FBS by SDS-PAGE: Equal masses (10 µg) of FBS proteins were analyzed by SDS-PAGE. MW: Molecular weight marker. Our Exosome Depleted FBS looks very similar to the Source FBS used in production, whereas the competitor's product shows protein band smearing. Panel B: CD63 Content by Western Blot Analysis: Exosomes were precipitated from FBS samples, run by SDS-PAGE, and probed by western blotting for CD63. MW: molecular weight marker. Compared to all other FBS samples tested, our Exosome Depleted FBS shows no observable CD63, indicating excellent exosome depletion.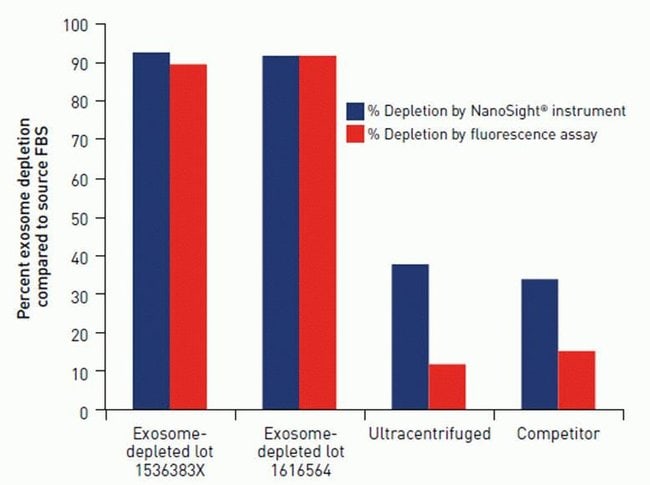 Exosome depletion verified by NanoSight instrument measurement and fluorescence exosomes staining assay
The exosome depletion from FBS samples was verified by analysis on a NanoSight
instrument (comparing the 30–150 nm count before and after exosome depletion) as well as via fluorescence-based assay. Briefly, this assay involves extracting exosomes from serum using the Total Exosome Isolation Reagent, and then staining the isolated exosomes with Invitrogen
BODIPY
TR Ceramide. The percent depletion is derived from comparing the fluorescent signal of the exosome-depleted FBS with the source FBS. The first two exosome-depleted lots shown above were produced by our proprietary manufacturing method. Included in the same analysis was a sample of FBS that was ultracentrifuged to deplete exosomes and an exosome-depleted FBS product from a competitor.
产品属性 GibcoA2720801无外泌体胎牛血清说明书pdf版和相关资料下载 (MSDS)
中文名称:无外泌体胎牛血清
英文名称:Fetal Bovine Serum, exosome-depleted
血清等级:exosome-depleted(专用)
处理方式:标准,三次0. 1 um滤膜过滤
纯度等级:Qualified
地区来源:美国
物种来源: 胎牛
产品规格: 500 ML
保存条件:-5 to -20°C
运输条件:干冰
产品订购信息
| | | | |
| --- | --- | --- | --- |
| 品牌 | 产品货号 | 产品名称 | 规格 |
| Gibco | A2720801 | Fetal Bovine Serum, exosome-depleted(无外泌体胎牛血清) | 500ml |
| Gibco | A2720803 | Fetal Bovine Serum, exosome-depleted(无外泌体胎牛血清) | 50ml |
| SBI | EXO-FBS-50A-1 | Systembio Exosome-depleted FBS (无外泌体胎牛血清) | 50ml |
| Gibco | 10099141 | FBS QUALIFIED AUSTRALIA ORIGIN (澳洲胎牛血清) | 500ml |
| Gibco | 16000044 | FBS US origin(北美胎牛血清) | 500ml |
| Gibco | 10270106 | FBS, South America (南美血清) | 500ml |
| Gibco | A3160801 | FBS, One Shot™ format, EU Approved South(盒装南美免分装) | 10*50ml |
| Hyclone | SH30096.01 | FBS 胎牛血清(加拿大血源) | 500ml |
| Gibco | 10091148 | FBS New Zealand origin (新西兰血源) | 500ml |
| Sigma | F2442 | FBS US origin(北美胎牛血清) | 500ml |
沪公网安备 31010402004520号